Cheshire Township Recycling and Transfer Station
Cheshire Township has a recycling drop off site for residents. It is located at the transfer station at 4120 106th Ave. and is open every Friday from 2—5pm and Saturday from 10 a.m. to 5 p.m. ID is required.
View Larger Map
Recycling can reduce the amount of trash you send to the landfill by 50%! Thanks for doing your part to protect our environment. Your efforts do make a difference!
Residents can now place all of the listed recycling material into the
recycling containers. No sorting needed.
Glass - empty clear, green, or brown
Magazines, phone books, catalogs, cardboard, paper bags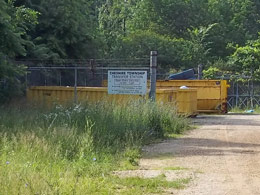 Call the Allegan County Health Department if you have Household Hazardous Waste, like: household batteries, oil- based paints, cleaners, expired or unwanted medications, pesticides, solvents, compact fluorescent lights, automotive and other chemicals. Bring us your mercury thermometers for an exchange! Appointments for drop off are available on Tues- days and Thursdays during regular business hours. Call 269-673-5415 for your appointment. Ask for Ben Williams.
Used motor oil can be recycled! Call Auto Zone, 420 Western Ave., Allegan at 269- 868-7877 for hours. Don't mix other wastes with oil.