Cheshire Township
Community News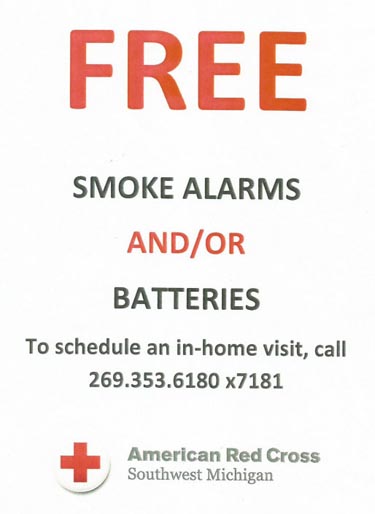 July 2017
Dear Friend,
Hello and welcome to the July edition of my e-newsletter for 2017!
The month of July was full of community events and Independence Day celebrations. I have been able to attend several township and city meetings, business tours, an Allegan Farm Bureau event, as well as some events honoring veterans. The Allegan County Fair is right around the corner and I'm looking forward to seeing everyone there! If there are any community events you would like me to know about, please contact our 80th District office. I look forward to seeing you around Allegan County!
Please do not hesitate to contact me if you ever have any questions or concerns.
Sincerely,
image002.png
Mary Whiteford
State Representative
80th District
September Office Hours:
My next set of monthly office hours are scheduled for Friday, September 8th at the following locations and times:
Time: 9am-10am
Location: The Trestle Stop, 3366-M-40, Hamilton, MI 49419
Time: 11am – 12pm
Location: Laketown Township Hall, 4338 Beeline Road, Holland, Laketown, MI 49423
Time: 2pm-3pm
Location: Casco Township, 7104 107th Ave. South Haven, MI 49090
Michigan House of Representatives bipartisan mental health task force:
I am happy to announce that I was recently appointed by Speaker Tom Leonard to serve on the Michigan House of Representatives mental health task force to explore ways to enable Michigan residents facing mental health challenges to live happier, healthier and more independent lives.
The House C.A.R.E.S. task force, named for the key elements the panel hopes to address in order to support vulnerable citizens: Community, Access, Resources, Education and Safety.
As a former Allegan County Mental Health Authority member and a current member serving on the House's Department of Health and Human Services budget subcommittee, I'm looking forward to exploring ways we can improve the lives of people who struggle to succeed due to inadequate access to mental health care or confusing regulations. This could include veterans with post-traumatic stress disorder, those with developmental disabilities, substance abuse, and mild to moderate mental illnesses.
The task force will hold public meetings during July and August to receive input from individuals and professionals around the state. Additionally, the task force will tour facilities to gain a better understanding of programs already available. The information gathered will help develop reforms that result in more consistency in mental health services across the state, better support for our veterans, additional attention to substance abuse, improvements to mental health courts, enhanced training for law enforcement and any other ideas brought forward.
Summer Reading Contest Reminder:
I am thrilled to be holding my second annual summer reading contest throughout Allegan County. Early literacy is vital to our children's futures and to encourage students to read, I am hosting a Summer Reading Program for kids in first through fifth grade. The winner will have the unique opportunity to serve as "Representative for a Day" along with me at the Capitol.
First through fifth grade students who read ten books and fill out the back of the bookmark distributed at local libraries may drop it off at their local library by September 1 to be entered into a drawing. The winner and their family will be invited to join me in Lansing to be a "Representative for a Day."
Additional bookmarks are available at local libraries and online at RepWhiteford.com. Participating libraries include:
Allegan Public Library, 331 Hubbard St. in Allegan;
Salem Township Library, 3007 142nd Ave. in Burnips;
Saugatuck-Douglas District Library, 137 E. Center St. in Douglas;
Fennville District Library, 400 W. Main St. in Fennville;
Hopkins Public Library, 118 E. Main St. in Hopkins;
J.C. Wheeler Public Library, 1576 S. Main St. in Martin;
Otsego District Public Library, 401 Dix St. in Otsego; and
Charles A. Ransom District Library, 180 S. Sherwood Ave. in Plainwell.
Other News:
Michigan 2017-18 state budget:

The Fiscal Year 2017-2018 budget was recently signed into law by Governor Rick Snyder

The people of Allegan County sent me to the Capitol to go line by line through our state budget, making it more effective and efficient. That is why we put together a budget that is fiscally responsible with taxpayer dollars. Just like families across Michigan, we are tightening our belt by cutting inefficient programs and eliminating waste in state government, saving critical funding so we can use it on your top priorities. It's important to me that we get the most out of every tax dollar by forcing government to live within its means.
One of those top priorities is education. Under our budget plan, K-12 schools receive the highest funding in state history. We continue our commitment to quality education for each and every student. Regardless of school district, each child receives a funding increase, ranging from $60 to $120. Furthermore, we continue our commitment to skilled trades training opportunities through career and technical education by increasing funding by 33 percent.
This budget makes life better for communities throughout Michigan by adding money to local governments for road repairs, public safety departments, and revenue sharing increases that are greater than the rate of inflation. I was proud to support this budget plan for the people of Allegan County.
Fall turkey hunting applications on sale July 1 through Aug. 1:
The Michigan Department of Natural Resources reminds hunters that the fall turkey hunting application period is now open. Applications will be available through Aug. 1. The application fee is $5. Applications and licenses may be purchased at any authorized license agent or online at www.mdnr-elicense.com. The 2017 fall turkey season runs Sept. 15 to Nov. 14. A total of 51,350 licenses are available, including 4,650 general licenses and 46,700 private-land licenses. Visit www.michigan.gov/turkey for information about fall turkey hunting. Fall turkey drawing results and leftover license availability also will be posted at this website Aug. 14.
Constituent Connections:
image003.jpg
It was truly an honor to be able to attend a veteran's event in Allegan honoring our veterans. It was great recognizing Barb and Lou Thierwechter for their commitment to helping veterans. Thanks for all that you do!
image004.jpg
It was a great honor to participate in Dale & Shawn's graduation from Judge Baillargeon's Veterans Court. Dale and Shawn worked hard during this 18 month program. Once again, congratulations!
image005.jpg
Earlier this month, I joined Senator Schuitmaker and Congressman Upton at an Allegan Farm Bureau event. It was great to see so many familiar faces and have great discussions on the importance of agriculture in Allegan County and Michigan
image006.jpg
I was able to participate in the Lighthouse Baptist Church in Plainwell annual public servants service. Thank you for all that you do for our community.
image007.jpg
I attended a special boat ride honoring local veterans in Douglas. A special thanks to Ric and Cathy Gillette for organizing, and Tower Marine and the Saugatuck Township Fire Department for giving everyone a ride. You made some veterans and their families extremely happy!
image008.jpg
I was honored to present medals to all of the Special Olympic athletes at the 3rd Annual Special Olympics MI Golf Skills Competition at the Lynx in Otsego!
STATE GOVERNMENT RESOURCES
State Government Links
The Official State, County and City Government Website Locator: www.statelocalgov.net/state-mi.cfm
Michigan Senate website: www.senate.michigan.gov
Michigan House of Representatives website: www.house.michigan.gov
Michigan Legislative Website: www.legislature.mi.gov
Unemployment Issues: If you are having issues connecting with the state unemployment office or receiving your unemployment benefits, please feel free to contact me by calling 517-373-0836. You may also find additional helpful information at the Michigan Unemployment Insurance Agency website: http://www.michigan.gov/uia/0,1607,7-118-26831---,00.html
Thank you for subscribing to my electronic newsletter! I am honored to represent you in the 80th House District of Michigan.
As always, please do not hesitate to contact me if you have any questions or concerns.
Please feel free to forward this on to others who may be interested in receiving the 80th District E-news.
If you would like to unsubscribe from this e-newsletter, please send an email to marywhiteford@house.mi.gov with the word "Unsubscribe" in the subject line.
# # #
We're Here for You!
_______________
Office:
(855)-737-0080
Email:
MaryWhiteford@house.mi.gov
Visit my online office:
www.RepWhiteford.com
Mailing Address:
N-1099 House Office Building
P.O. Box 30014
Lansing, MI 48909
Located on the corner of Ottawa and Capitol, across the street from the State Capitol.
Committee Assignments:
Appropriations Subcommittee on Department of Environmental Quality, Chair
Appropriations Subcommittee on Agriculture and Rural Development,
Vice-Chair
Appropriations Subcommittee on Licensing and Regulatory Affairs and Department of Insurance and Financial Services
Appropriations Subcommittee on Department of Health and Human Services
https://camo.githubusercontent.com/b98961060fd4f31813be2d8d2711834166dfe9de/687474703a2f2f7777772e646f69742e62612f696d672f66616365626f6f6b2e6a7067
https://whatswp.com/wp-content/uploads/2013/10/twitter-logo.png
The Michigan House of Representatives is responsible only for content submitted with House resources and in accordance with the law and House policy. Unauthorized use is strictly prohibited.